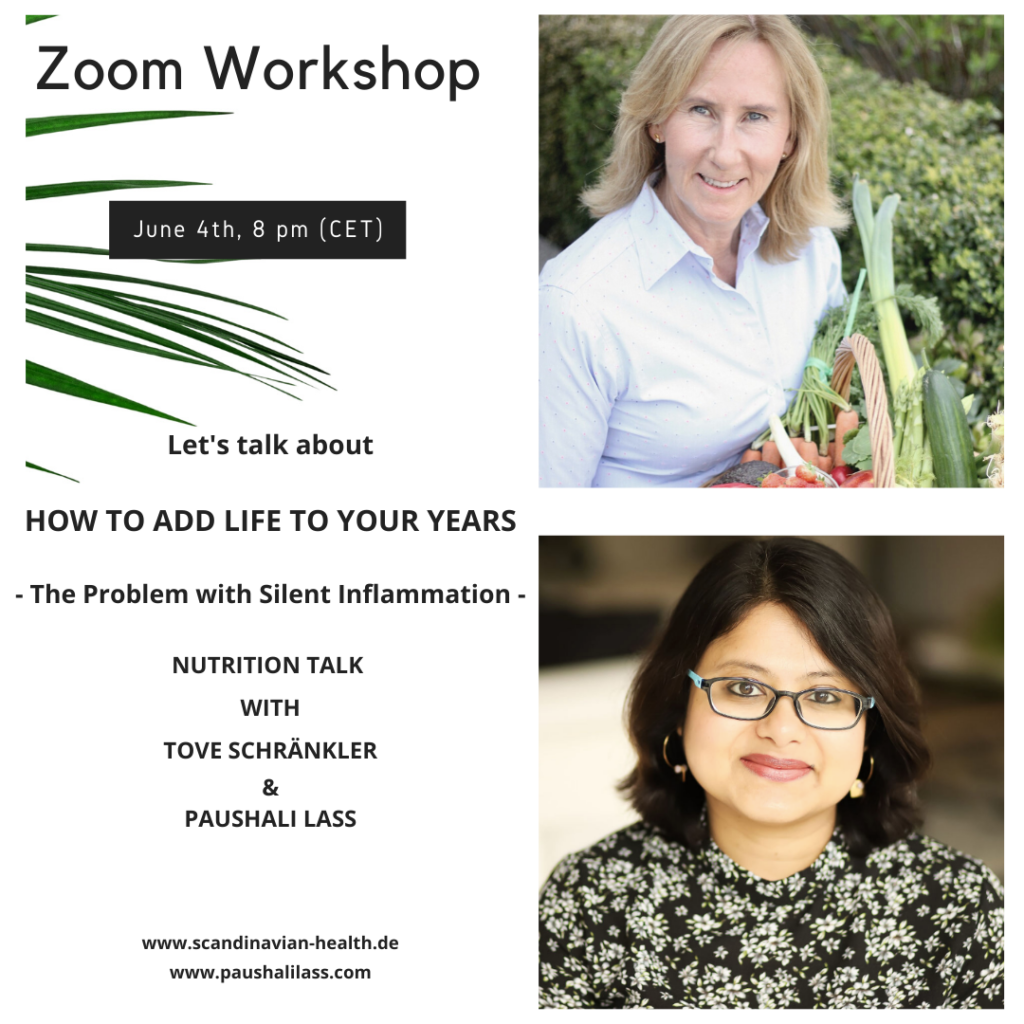 Free Interactive Zoom Talk with Nutritional Therapist Tove Cecilie Schränkler & Counsellor Paushali Lass
Follow the link to sign up.
https://www.eventbrite.co.uk/e/how-to-add-life-to-your-years-online-workshop-tickets-106671730016
– Let's Talk about How to Add Life to Your Years –
on the 4th of June at 8 pm (CET)
Are you feeling tired throughout the day?
Are you feeling that your energy is lower than it used to be?
Do you suffer from mood swings, cravings and weight gain?
Do you have problems with stress and insomnia?
… or do you have digestive problems or food intolerances?
In this Workshop we offer you the chance to learn how you can start improving your health.
You will learn how silent inflammation may impact your health and what the symptoms are.
You will start to understand the connection between food and how to prevent degenerative disease by lowering silent inflammation in the body.
You will start to learn how you by implementing some simple lifestyle and diet changes, you can improve your health, become happier and have more energy.
You will get some mind-training tips and life-hacks to have a balanced lifestyle and efficient ways of managing stress, anxiety and depressed moods.*
A Word from Paushali, Counsellor and Coach for making a positive change:
I totally understand if you feel how daunting and stressful it sounds to eat healthy and have a balanced diet continuously. However, more often than not it is in our minds and you will be surprised how easy it can actually be to incorporate a well-balanced diet into your life by making some lifestyle adjustments. "Add life to your years" – a life lived with peace, joy and confidence.
About the speakers
My name is Tove Cecilie and I am originally from Norway. I associate the Scandinavian countries with longevity, nature and a healthy lifestyle. These values ​​have been part of my work as a qualified Nutritional Therapist for 20 years. Preventing diseases and women's health are particularly important to me. As a former manager in an international bank, I used to feel all the things above. The many meetings, the constant stress and finally the poor diet almost led to a burnout.
"Every woman deserves to be healthy and to be happy" is my credo as a Nutritionist today. However, due to the jungle of information out there, it is not easy to know what the 'right' diet is.
This is why I am ​​offering a SuperFood program especially for women. My customers learn in small steps to replace less healthy foods with healthier foods.
Even simple changes such as a wholesome breakfast or a meal with green leafy vegetables can make a big difference. My course participants report more energy, a clear head and feeling lighter.
Hi. I am Paushali and I live in Düsseldorf, Germany with my husband and five kids. I am originally from India but have lived most of my life outside India – in the UK, Germany and Singapore. I have many years of counselling and mentoring experience with women of different nationalities. I am passionate about helping my clients to make about a desired change in their lives. I specialise in counselling in the areas of intercultural challenges, depression, relationship issues, and anxiety and stress management. I believe empathy, non-judgement and compassion are the foundation of good counselling.
Hi, ich bin Paushali und lebe mit meinem Mann und meinen fünf Kindern in Düsseldorf, Deutschland. Ich habe viele Jahre Counselling- und Mentoring-Erfahrung mit Frauen verschiedener Nationalitäten. Es ist meine Leidenschaft, meinen Kundinnen zu helfen, eine gewünschte Veränderung in ihrem Leben herbeizuführen. Ich habe mich auf die Counselling/Beratung in den Bereichen interkulturelle Herausforderungen, Depressionen, Beziehungsfragen sowie Angst- und Stressmanagement spezialisiert. Ich glaube, dass Einfühlungsvermögen, Nicht-Urteilbarkeit und Mitgefühl die Grundlage einer guten Counselling sind.
Paushali Lass
0172 105 1226
If you have any questions regarding your health and nutrition – about personal complaints and individual problems, as well as treatment strategies, possibilities and costs, please contact us without obligation by sending an e-mail by to:
or
Disclaimer: The contents of this presentation can only give you an overview of the above topics. The recommendations should not replace any advice you receive from your doctor or replace any therapy that you are currently receiving. Please consult a health professional before making any changes.
*kindly understand depression that is related to medical conditions need to get checked by an appropriate medical professional.
Register on Eventbrite by following the link:
https://www.eventbrite.co.uk/e/how-to-add-life-to-your-years-online-workshop-tickets-106671730016
You will receive further information and a link for the Zoom conference by mail.